Illinois congressman Adam Kinzinger has called on President Joe Biden to consider the use of emergency powers to keep the Byron and Dresden nuclear power plants in operation, at least until the enactment of new state or federal laws to ensure a "level playing field" for such plants. Separately, Exelon said its Illinois nuclear fleet, including Byron and Dresden, operated at full power levels during the hottest July on record.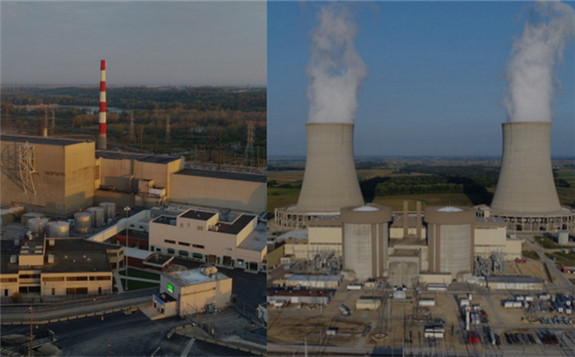 "I write to you with an urgent request to take extraordinary measures - to maintain the continuity of operations for these plants," Kinzinger said in a 23 August letter to the president which was also copied to top administration officials. He goes on to urge the President "or your delegates" to cite "new or existing emergencies" through which statutory authorities may be used to compel the continued operation of the two plants. The Defense Production Act and the Federal Power Act both provide emergency powers to compel certain actions of energy providers, he said, and the administration could use either of these statutes.
In a statement released after the letter was sent, Kinzinger said an "astonishing" failure of leadership at the state level had made the closures of Byron and Dresden imminent. Despite the fact that Congress is "poised to pass" bipartisan legislation - the Preserving Existing Nuclear Energy Generation Act - which would provide a financial credit programme, such legislation would be unlikely to be able to help Byron or Dresden as they are slated to close in the coming weeks, he added.
"As laid out in my letter to the President, there are existing legal authorities for the Biden Administration to save these plants from closure. Therefore, I'm making an urgent plea that they employ these powers to keep our plants online. There are plenty of reasons why this is beneficial: for energy independence and resilience, preservation of sufficient non-emitting baseload power, climate preservation, public health, national defence and security, etc. We cannot turn a blind eye to this problem any longer; we have to save our nuclear plants," Kinzinger said.
"If Springfield lacks the will to save these plants, and if Congress cannot act quickly enough, then it's time for the President to step in and consider every possible action to support nuclear power in favour of our collective security - including the security of energy resources, the climate, the economy, and the nation."
Exelon in 2019 said it would retire the two-unit Byron and Dresden plants this year due to low energy prices and market policies giving fossil fuel plants an unfair competitive advantage, unless state policy reforms to support their continued operation were passed. A package of clean energy legislation that would have achieved this stalled in the last session of the Illinois legislature due to contentions over measures unrelated to the preservation of the nuclear plants. Byron is currently scheduled to shut down in September and Dresden in November.
A group of Illinois lawmakers earlier this month called for the state's General Assembly to return as soon as possible to pass the legislation that would keep the nuclear plants online. The Assembly is now set to return for a special session on 31 August, although according to Senator Sue Rezin - one of those campaigning for a vote - energy legislation is not on the agenda. "To preserve our nuclear fleet, Senate President Harmon must call a bill for a vote while we are in," she tweeted on 23 August.
Reliability
Exelon's Illinois nuclear fleet operated at full power levels during the hottest July in at least 142 years, the company said yesterday. Illinois grid operators issued several hot weather alerts calling for maximum electricity generation during the period.
"Our nuclear facilities are among the most reliable power plants in the country, and we know how important it is for them to be available during extremely hot weather conditions like we've experienced recently across Illinois," said Shane Marik, Exelon Generation senior vice president for midwest operations.
Illinois' nuclear fleet produces more than half of the state's electricity and includes the Braidwood, Byron, Clinton, Dresden, LaSalle and Quad Cities plants. Exelon has previously said the Braidwood and LaSalle nuclear plants are also at high risk of premature retirement in the near term.