Russia has finished pouring concrete for the foundation slab of its new BREST-OD-300 lead-cooled fast reactor at the Siberian Chemical Combine's (SCC's) Seversk site. It is part of an overall programme to close the nuclear fuel cycle.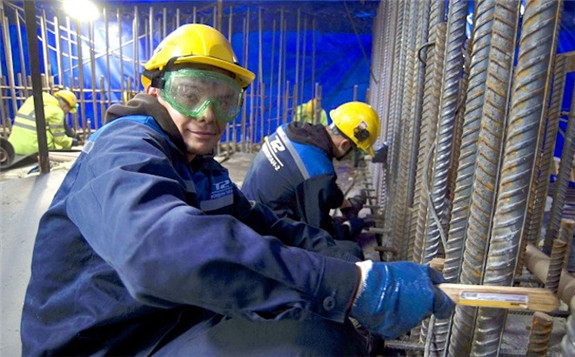 The operation took 26 hours and involved around 2855 cubic metres of concrete, Rosatom said on 19 August. The work is managed by the SCC and the Titan-2 construction firm which was contracted to build the reactor building, turbine hall and related infrastructure.
More than 250 student construction workers of the Peaceful Atom - PRORYV project have been supporting construction on the site as a way to gain experience, Rosatom said. They were welcomed by Sergei Kotov, director general of SCC, who said, "The arrival of such a large number of students is a great emotional charge at our construction site." He added that master construction workers on site would support their professional education and, "We will mark the students who want to connect their lives with the plant, and we will build further career trajectories for them."
BREST-OD-300 is part of Rosatom's Proryv, or Breakthrough, project to enable a closed nuclear fuel cycle. The 300 MWe unit will be the main facility of the Pilot Demonstration Energy Complex, which is in the process of construction at the SCC site. In addition, the complex will demonstrate an on-site closed nuclear fuel cycle with a facility for the fabrication/re-fabrication of mixed uranium-plutonium nitride nuclear fuel, as well as a used fuel reprocessing facility.
Titan-2's contract for the main construction work of the reactor facility was worth RUB26.3 billion (USD360 million) when it was signed in December 2019. The reactor is scheduled the start up before the end of 2026.