Core components of Sweden's Ringhals units 1 and 2 will be cut up and disposed of by Westinghouse, starting as early as April 2023, plant owner Vattenfall has announced. A contract announced today covers the reactor pressure vessels, internals and fuel racks. The companies described the deal as "extending their long-standing nuclear energy partnership into decommissioning activities."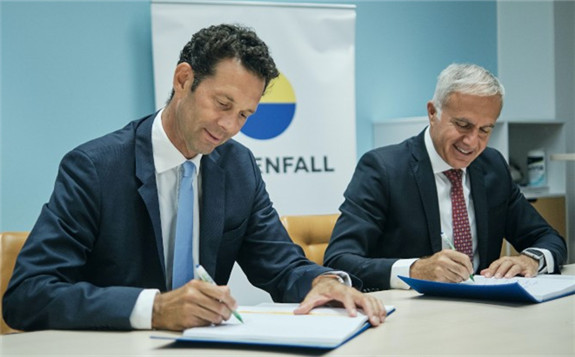 Ringhals 1 is a boiling water reactor built in 1969 by ASEA Atom, while Ringhals 2 is a pressurised water reactor built in 1970 by Westinghouse. The two companies were later consolidated into today's Westinghouse and "with this agreement, we close the circle," said Sam Shakir, president of Westinghouse Environmental Services.
Westinghouse said that its engineers will start the dismantling process digitally with 3D modelling of all the cutting and packaging that will be performed onsite. For the reactor internals, they will use mechanical underwater remote-controlled equipment, it said. For the reactor pressure vessels, dry thermal cutting technologies will be used for most of the parts. When the process is complete, all materials will be packed and safely disposed of.
The turnkey project is worth "several hundred million kronor" (up to around USD100 million), said Vattenfall. The company noted that this is funded by Sweden's Nuclear Waste Fund, which has been built up by nuclear power plant owners since the 1970s. Decommissioning of Ringhals 1 and 2 will begin next year and reach the stage of executing this project by April 2023.
"The agreement with Westinghouse Electric means that it is clear how the large radioactive components at Ringhals 1 and 2 shall be dismantled and this also sets the framework for other dismantling activities in the facilities," said Christopher Eckerberg, head of nuclear decommissioning at Vattenfall.
Ringhals 1 and 2 were closed at the end of 2020 and 2019, respectively - several years earlier than planned due to the economic impact of punitive taxes. When it announced its intention to close the plants, in 2015, Vattenfall said, "Market conditions and the impact of the high output tax have prompted us to limit investments in Ringhals 1 and 2." The final decision was made in October 2015. Two other reactors will continue to operate at Ringhals until the early 2040s.