Iran is ready to return to the international oil market at the highest level when a political agreement is reached between Iran and the world powers, and the unfair US sanctions on the country are lifted, Iran's outgoing oil minister, Bijan Namdar Zanganeh, said.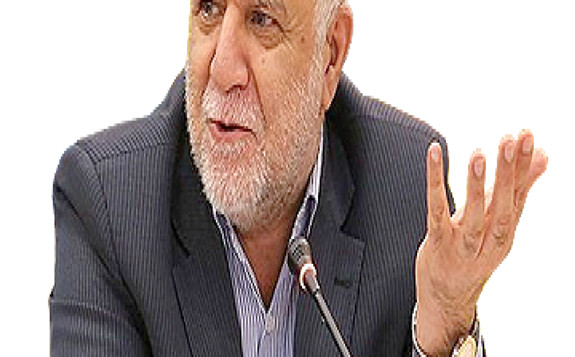 He made the statement in his meeting with Mohammad Sanusi Barkindo, secretary-general of the Organization of Petroleum Exporting Countries, in Tehran on Friday, the Oil Ministry's news agency Shana reported.
The minister noted that after the US withdrawal from the Joint Comprehensive Plan of Action in May 2018, Iran lost about 2 billion barrels of oil exports, an equivalent of roughly $120 billion.
Referring to OPEC as the only third-world economic organization that is influential in world economic interactions, Zanganeh said, "The main factor behind OPEC's success has been cooperation among its members despite differences."
For his part, Barkindo praised Zanganeh's work and actions during his tenure, and said that all OPEC ministers remembered him well.
"You are a valuable asset for Iran and you have done well in these four decades due to the difficult conditions in Iran. OPEC will always remain your home," he added.
Barkindo hoped that Iran would continue its key and important role in OPEC and the oil market.
Last month, Zanganeh attended the 181st Meeting of the OPEC Conference as his last presence in the event as Iran's minister.
Zanganeh, 68, has held the post for 16 of the past 24 years. He served as the country's oil minister from 1997 to 2005 and from 2013 till now.
The veteran minister, who will hand over his post to the next holder late August, said his successor's main task would be lifting oil exports that have been hammered by US sanctions.
Iran has been exempted from a series of cuts to global supply agreed between OPEC and allies, a group known as OPEC+. The country has already been pumping more oil to the markets, as buyers prepare for a potential easing of sanctions if Tehran and world powers agree to revive a 2015 nuclear deal that had been abandoned by the former US government in 2018.
The return of Iranian supplies is expected to affect prices that have been recovering as a result of the easing of coronavirus restrictions around the world.
Latest OPEC figures show that Iran has had the highest monthly increase in oil production to well over 2.5 million barrels per day in May.
The figure is still below the 3.8 million bpd of output recorded before the illegal US sanctions were imposed.
Oil exports, Iran's main revenue source, have plunged under US sanctions. Tehran does not disclose export data, but assessments based on shipping and other sources suggest a fall from about 2.8 million barrels per day in 2018 to as low as 200,000 bpd.
Iran is in talks with the United States and other world powers about reviving a nuclear pact, which could lead to the lifting of US sanctions.