At least one 3MWh Tesla Megapack battery storage unit being installed at a 300MW / 450MWh site in Victoria, Australia, was shown to be ablaze in pictures posted by a local news outlet this morning.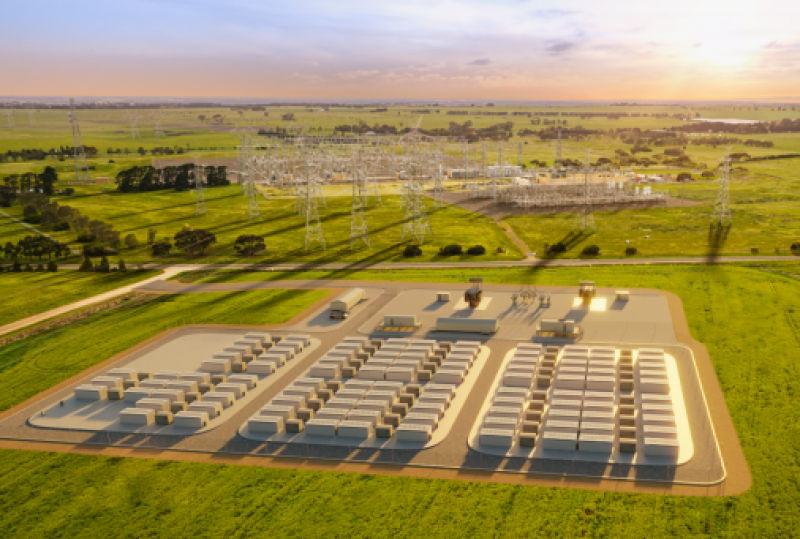 Renewable energy developer Neoen's Victoria Big Battery project is nearing the end of construction and has received its registration with the Australian Energy Market Operator (AEMO). The project reached financial close in February and is set to increase the interconnection capacity between the states of Victoria and New South Wales by 250MW at peak times.
At 11:19am this morning, 7NEWS Melbourne tweeted that fire crews were "on the scene of a battery fire at Moorabool, near Geelong," with firefighters working to contain the fire and prevent it spreading to nearby units. Images showed one Megapack unit with flames and smoke emerging.
Local first response department Fire Rescue Victoria (FRV) said that crews were wearing breathing apparatus as they worked to contain the fire, while an FRV Scientific Officer was conducting atmospheric monitoring at the scene. A specialist FRV drones unit had also been deployed and FRV expected its crews to "remain on scene for several hours".
While FRV said that as of 12:57pm there was "currently no threat to the community though residents and motorists will notice smoke in the area," the Victoria government's combined emergency alerts website had carried an air quality warning at 11:53am, issued by state volunteer fire service Country Fire Authority (CFA). CFA cited the presence of toxic smoke in Batesford, Bell Post Hill, Lovely Banks, Moorabool Area owing to a "structure fire".
Neoen Australia managing director Louis de Sambucy sent Energy-Storage.news the following statement this afternoon:
"We can confirm that during initial testing today at approximately 10 -10.15am a fire occurred within one of the Tesla Megapacks at the Victorian Big Battery. No-one was injured and the site has been evacuated.
Neoen and Tesla are working closely with emergency services on site to manage the situation.
The site has been disconnected from the grid and there will be no impact to the electricity supply.
We will provide updates and further details as they become available."