Work has been completed to remove the internal components of the reactor at unit 6 of the Bruce nuclear power plant in Ontario. As part of a 48-month refurbishment project, replacement parts will be installed in the Candu reactor in order to extend the life of the unit by 40 years.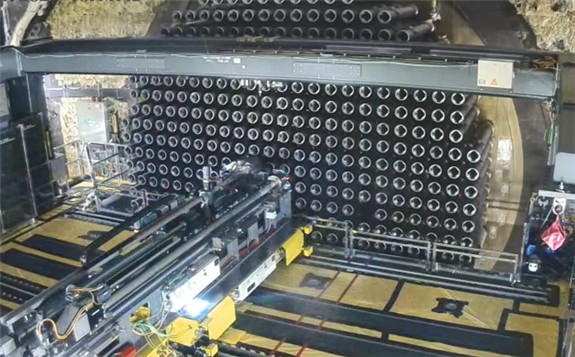 Bruce units 3-8 are to be refurbished under Bruce Power's Major Component Replacement (MCR), which will include the replacement of key reactor components such as steam generators, pressure tubes, calandria tubes and feeder tubes. The MCR is part of Bruce Power's Life-Extension Program, which started in January 2016 and involves the gradual replacement of older systems in the company's eight reactor units during regularly scheduled maintenance outages. Units 1 and 2 at the plant have already been refurbished.

Work to refurbish unit 6 began in January 2020 and is expected to be completed in January 2024. Work is scheduled to begin on unit 3 in 2023 and unit 4 in 2025, with each refurbishment planned to be shorter in duration, and ultimately more cost-effective, than the previous one. The refurbishment of the final reactor, unit 8, is scheduled to be completed in July 2033.

Team work

The MCR project team, alongside vendor partner Shoreline Power Group - a joint venture between Aecon, SNC-Lavalin and United Engineers & Constructors - spent about 10 months removing feeder tubes, pressure tubes, calandria tubes and other important internal components of the Bruce unit 6 reactor. The last of these removals was completed ahead of schedule on 9 July.

"This is an important moment for the MCR project," said Jeff Phelps, Bruce Power's vice president for major projects. "We're now turning our attention to the inspection and installation work, which will be much more hands-on for our tradespeople."

Shoreline Power Group is responsible for the fuel channel feeder replacement portion of the project, which involves all reactor removal, inspection and installation work. This includes the removal and replacement of 960 feeder tubes, 480 fuel channels and 480 calandria tubes. The project was supported by other key vendors and suppliers including SNC-Lavalin, Eclipse Automation, CANDU, Black & McDonald and Nuvia Canada Inc, and also received indirect support from industry experts Ontario Power Generation and Canatom, which offered collaborative assistance throughout the removal phase.

"To execute a project of this scale and complexity takes considerable collaboration and support from industry leaders and project partners, which we've unquestionably seen since the start of the project," said Eric Chassard, Bruce Power's executive vice president for projects and engineering. "It is through this teamwork and collaboration that the MCR Project will be able to provide Ontarians with stable, affordable, and clean energy for decades to come."

Nuclear power meets some 60% of the electricity needs of Ontario, which phased out the use of coal for electricity generation in 2014. Bruce Power's nuclear units provide 30% of the province's total electricity.

Hydrogen issue

Bruce Power noted that as part of its ongoing planned inspection, testing, analysis and maintenance activities, it has detected some higher measurements of hydrogen equivalent than predicted in the pressure tubes of units 3 and 6 at the Bruce plant. These levels exceed the limits set out in the power reactor operating licence conditions. Unit 3 is currently in a routine inspection and maintenance outage, while unit 6 is undergoing its MCR, in which all pressure tubes are being replaced.

The company concluded there was no impact on the safety of the units. "All six units that are currently operating have recently undergone similar inspections and demonstrated fitness for service," it said.

Bruce Power has informed the Canadian Nuclear Safety Commission (CNSC), which issued formal notices to all nuclear power plant licensees in Canada requiring timely review and reporting on the continued safe operation of pressure tubes. The CNSC noted hydrogen content "is not a concern when reactors are shut down or when they have reached operating temperature".
Component removal work at the reactor of Bruce unit 6 (Image: Bruce Power)