Kazatomprom plans to maintain 2023 uranium production at a similar level to 2022, which it says would remove up to 5,000 tU from anticipated global primary supply. The Kazakh company also said its sale of a 49% share of Ortalyk LLP to a subsidiary of China General Nuclear Power Corporation will now be completed at the end of July.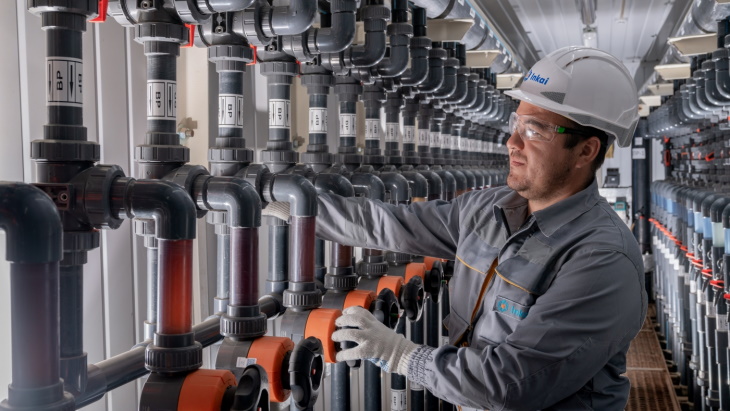 "Consistent with our market-centric strategy, we intend to continue exercising commercial discipline, which will result in 2023 production remaining 20% lower than previously planned subsoil use contracts levels, keeping production essentially flat in 2022 and 2023," Kazatomprom CEO Galymzhan Pirmatov said. "Although the uranium market is starting to show signs of improvement, including an increase in long-term contracting interest, a thinning spot market, and slightly improved pricing, we still find ourselves in a position where adding tonnes back into the market in 2023 would be unlikely to maximise returns for our shareholders."

Kazatomprom's 2023 production is now expected to be between 22,500 and 23,000 tU (on a 100% basis), against subsoil use contract levels of about 27,500-28,000 tU.

The company has remained profitable even at the lowest point in the commodity cycle, Pirmatov said, but the "true value" of its position in the sector has been limited by a market environment unfavourable to long-term contracting.

"With the establishment of our THK subsidiary in 2017, Kazatomprom has the opportunity to diversify its contract portfolio and gain better line-of-sight to future sales. Accordingly, the company does not expect to return to full subsoil use contract production levels until a sustained market recovery is evident, supply and demand conditions signal a need for more uranium, and the company's pipeline of mid to long-term contract negotiations implies that there is a low risk of produced volumes further delaying the recovery," he added.

The company said it is announcing its plan "well ahead of time" so its mining subsidiaries and joint ventures will be able to incorporate the required changes into their 2022 capital expenditure budgets and account for the revised production levels in 2023. No decision has been taken on mine development activity and production beyond 2023, it added.

Ortalyk update

The closure date for the sale of a 49% interest in Kazatomprom's wholly owned subsidiary, Ortalyk LLP, to a subsidiary of CGNPC has now, by agreement, been extended to 31 July, Kazatomprom said. It agreed to sell the share in exchange for a guarantee that CGNPC will purchase the production from a new fuel assembly plant - Ulba-FA - which is being built by Kazatomprom and CGNPC.

The transaction, which is subject to conditions as well as governmental and legislative approvals, had previously been expected to close by the end of June. On completion of the transaction, Kazatomprom will retain a controlling 51% interest, with CGNPC's CGN Mining subsidiary holding the remaining 49%. The 49% share in Ortalyk has previously been valued at about USD 435 million.

Kazatomprom describes itself as the world's largest producer of uranium, with attributable production representing some 23% of global primary uranium production in 2020. All of its mining operations are located in Kazakhstan and use in-situ leach technology.