Taiwan Power Company (Taipower) today announced the permanent closure of unit 1 at its Guosheng nuclear power plant. The 985 MWe boiling water reactor had been scheduled to be decommissioned in late December this year, but a lack of used fuel storage capacity has forced the state-owned company to take the unit offline early in preparation for a major overhaul of the facility.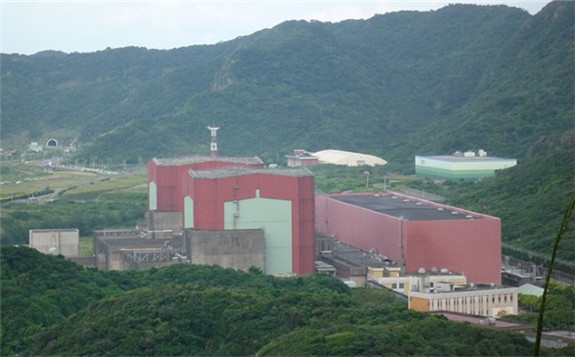 The 40-year operating licence for Guosheng 1 will expire on 27 December, when it was due to be shut down as part of Taiwan's nuclear phase-out policy. However, in May, Taipower announced it would only be able to operate the reactor until June owing to a lack of storage in the unit's used fuel pool. Fresh fuel had been loaded into the core of the reactor during a maintenance outage in 2020, but it was only able to operate at full power until February. Taipower says the unit would have needed to shut in March had it not lowered its power level to 80%, enabling operations to continue until around mid-June.
Taipower submitted a decommissioning plan for Guosheng 1 three years ago, which the Atomic Energy Council (AEC) approved on 20 October last year. AEC will issue the permit for the decommissioning of the reactor once Taipower completes the environmental impact assessment for the operation. AEC noted the unit will officially enter the decommissioning period following the expiration of the operating licence as scheduled and decommissioning activities can only begin when the decommissioning permit has been issued.
The decommissioning plan includes the construction of a dry storage facility for used fuel. However, construction of the facility has been delayed by a dispute between Taipower and the New Taipei City government, which is opposed to a permanent used fuel storage facility within its jurisdiction.
Taipower said that as a result of a lack of storage space, the used fuel currently in Guosheng 1's core will have to temporarily remain there. "Related safety equipment will be maintained and regularly tested in accordance with laws and regulations," the company said.
AEC noted Taipower has proposed an overhaul of Guosheng 1 "in accordance with the regulations" and plans to complete the related maintenance operations within six months.
Unit 2 of the Guosheng plant is scheduled to operate until March 2023 when its operating permit expires.
Phase-out policy
Taiwan's Democratic Progressive Party (DPP) was elected to government in January 2016 having a policy of creating a "nuclear-free homeland" by 2025. Under this policy, Taiwan's six operable power reactors would be decommissioned as their 40-year operating licences expire. Shortly after taking office, the DPP government passed an amendment to the Electricity Act, passing its phase-out policy into law. The government aims for an energy mix of 20% from renewable sources, 50% from liquefied natural gas and 30% from coal.
However, in a referendum held in November 2018, voters chose to abolish that amendment. The Ministry of Economic Affairs said the amendment was officially removed from the Electricity Industry Act on 2 December.
Nevertheless, Minister of Economic Affairs Shen Jong-chin said in January 2019 "there would be no extension or restarts of nuclear power plants in Taiwan due to subjective and objective conditions, as well as strong public objection".
Taiwan has four operable nuclear power reactors - two each at the Kuosheng and Maanshan plants - which account for around 15% of the island's electricity generation. Unit 1 of Taiwan's oldest plant, Chinshan, was taken offline in December 2018, followed by Chinshan 2 in July 2019. Construction of two units at Lungmen began in 1999, but the project has been beset with political, legal and regulatory delays. The completed unit 1 was mothballed in July 2015, while construction of unit 2 was suspended in April 2014.