| | |
| --- | --- |
| Time | 2021-09-15 - 2021-09-17 |
| Organizer | China Petroleum, Chemical Industry Federation, CCPIT Sub-council of Chemical Industry, China National Chemical Information Center |
| Place | Shanghai New International Expo Centre |
| Industry | |
| Tel | 86-10-64271700 |
| Email | [email protected] |
| Website | http://en.icif.cn/ |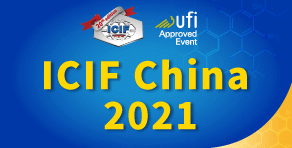 China International Chemical Industry Fair (ICIF China 2021) will be held at Shanghai New International Expo Centre from September 15 to 17, 2021.
ICIF China has been successfully held for 19 editions following the development of petrochemical industry in China. Sponsored by China Petroleum and Chemical Industry Federation and jointly organized by CCPIT Sub-council of Chemical Industry and China National Chemical Information Center, ICIF China has grown up to be a grand annual event in petrochemical and related industries you will not wish to miss. It also has made itself a wonderful platform for participants from enterprises, research institute and governmental unities to exchange ideas and do business.
Besides keeping close attention to high-tech products and technologies in petrochemical industry, ICIF China also aims to boost innovation and continuous development together with the whole industry.The event covers eight main categories including energy chemical industry, basic chemicals, fine and specialty chemicals, new chemical materials, chemical processing and technologies, chemical safety and environmental protection, chemical storage and transportation as well as intelligent manufacturing to set up an all-in-one purchasing and service platform for the industry.
In 2020, ICIF China has embraced over 320 exhibitors to display their products and technologies at a 20000sqm area. Leading companies like Sinopec, Sinochem, China National Energy Group, Huayi Group, Shaanxi Yanchang Petroleum, zhongbing Huajin, Luxi Chemical, Rongsheng petrochemical, Dongming Petrochemical, Juhua Group, Bohai Chemical, Qingdao Bay Group, China Coal Group, Baofeng energy group, Wanda petrochemical and Fuhai group all appeared to show their great support, playing a very positive role in the revitalization of China's petrochemical industry. Transnational corporations like Air Products, Greif Flexibles, United Initiators, KEEP Technologies, Otsuka Electronics, Dec China, etc present their latest products and technologies also.
"SmartchemZone" made its debut at ICIF China 2020. More than 40 well-known enterprises at home and abroad, such as Zhejiang SUPCON, Ehrfeld Process, SAP, China National Software and Service, Jinan Dalu Mechanism & Electron, Hangzhou Eossoftware, Jiangsu Innovation Packaging, Seymour Eagle Automation, Changchun Rochiev, Mettler Toledo, etc., demonstrated the key technologies, equipment and service solutions of intelligent manufacturing onsite.
Alongside ICIF China 2020, the 5th Int'l SmartChem Conference was held. The main forum focused on the practice and application of informatization and intelligence in the petrochemical industry, as well as the innovation and development of enterprises. More than 10 speakers shared their experience on the spot. Three other Sub forums including 2020 China Petrochemical Industry Development Forum, 2020 High-concentration organic waste liquid, waste acid and alkali, waste gas and waste residue treatment technology seminar, Benchmarking management practical experience sharing meeting and 2020 Global Chemical Regulations Seminar were also held simultaneously, bringing industry policy interpretation, latest market trends and practice case sharing for nearly 400 attendants, on-site exhibitors and visitors.
ICIF China 2021 will continue the theme of innovation drives high-quality development and hold the 6th Int'l SmartChem Conference and a series of high-class professional conferences and seminars. Experts and representatives from the whole industry will be gathered together to discuss on the way of a greener, safer, more effective and environmental-friendly future.
In 2021, ICIF China will again build up China Petroleum and Chemical Industry Week (CPCIW) altogether with the 20th international Exhibition on Rubber Technology and the 23th China International Adhesives and Sealants Exhibition. With over 1600 exhibitors, the total exhibition scale of CPCIW is expected to pass 90000 sqm and attract over 60000 professional visitors.