| | |
| --- | --- |
| Time | 2021-10-22 - 2021-10-24 |
| Organizer | Innovation Alliance of the Graphene Industry |
| Place | Shanghai University located at No. 99 Shangda Road, BaoShan District, Shanghai, 20444 P.R.China. |
| Industry | Energy Storage |
| Tel | |
| Email | |
| Website | http://www.grapchina.com/ |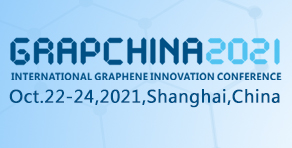 International Graphene Innovation Conference has been successfully held for seven consecutive sessions. The number of participants has set a new record year by year, and its influence has continued to improve. The seven sessions attracted more than 4000 enterprises, 2,3000 participants and 1200 experts in new materials field, which come from over 30 countries and regions around the world. At present, it has developed into a gathering place, a vane and an international event for the world's cutting-edge graphene technological achievements and innovative products, known as the "Global Graphene Autumn Conference". The "China International Graphene Materials Application Expo", held simultaneously with the conference, will continuously inject new vitality into the development of the global graphene industry by gathering the global graphene industrialization achievements.
2021 International Graphene Innovation Conference (GRAPCHINA 2021), will be organized by Innovation Alliance of the Graphene Industry (CGIA) in Shanghai – one of the global centers for finance, innovation, and transportation, on October 22-24 of the year 2021. This year, GRAPCHINA2021 will focus on the industrial chain, supply chain, international cooperation, integration of industry-education-research and applications, and work with end users to create a number of commercial forums. At the same time, CGIA will also cooperate with the EU Graphene Flagship, Graphene Info, Phantoms Foundation, Nano Malaysia and many other foreign organizations to create a number of international special events, such as overseas branch meetings, international Graphene Award, International Graphene New Material Competition and so on. GRAPCHINA will as usual invite over 200 experts from 30 countries and zones to share the latest scientific achievements and industrial trends.
At the three-day conference, over 30 forums will be held in the fields of automobile, heat dissipation, coatings, household appliances, new energy, energy conservation and environmental protection, focusing on graphene frontier progress, standard certification and international cooperation. More than 200 experts from all kinds of fields will gather in Shanghai through the combination of online and offline to create an innovative and diversified global graphene carnival!