South Korean president Moon Jae-In has declared Seoul's intention to strengthen its nationally determined contributions (NDCs) and to suspend all public financing for new coal plant projects abroad as the country seeks to meet its carbon neutrality goal.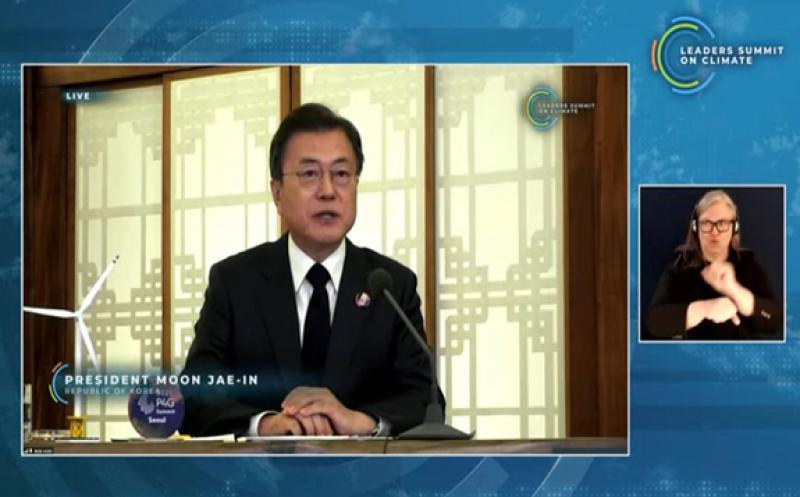 The government will finalise its plan to revise NDCs upward for the 2021-30 period and submit it to the UN by end of this year, president Moon pledged at the Leaders' Summit on Climate, hosted by US president Joe Biden.
Seoul revised its emissions goal upward last year by changing its goal to be based on an absolute emissions target, rather than a previous target based on a Business-As-Usual (BAU) emissions projection. The country pledged to reduce its 2020 emissions by 24.4pc compared with 2017, which implies 2020 emissions of 538.9mn t of CO2 equivalent (CO2e), Argus calculates based on the reference indicator submitted to the UN last year.
President Moon reiterated his intention to meet a 2050 carbon neutrality goal and said South Korea has already reduced annual emissions during 2019-20 by more than 10c compared with 2018, when emissions peaked.
South Korea will also suspend all public financing for new coal-fired power projects abroad. The government has already halted issuing construction permits for new coal projects domestically and set a target to retire a combined total of 15.3GW of coal capacity by 2034, according to its latest ninth basic electricity plan.
The government is also on track to finalise its draft plan to introduce an annual cap on coal-fired power generation by 2022, which is expected to be followed by power market reforms to make carbon costs more meaningful. And the ministry of energy and industry (Motie) reportedly asked the state-owned Kepco utility to voluntarily reduce 2021 coal-fired output by 18-24pc compared with the 2017-19 average, ahead of the introduction of an annual coal output cap in 2022.
President Moon acknowledged the downsides of scaling back the coal industry, domestically and abroad, including job losses, and promised his government will actively promote green finance in order to expand investments in renewable energy facilities.
Seoul has announced a plan to build an 8.2GW offshore wind farm in Jeonnam province by 2030, which will be seven times larger than the UK's 1.2GW Hornsea 1.