In the past decade, the world's lithium-ion battery production capacity has increased tenfold, according to the International Energy Agency.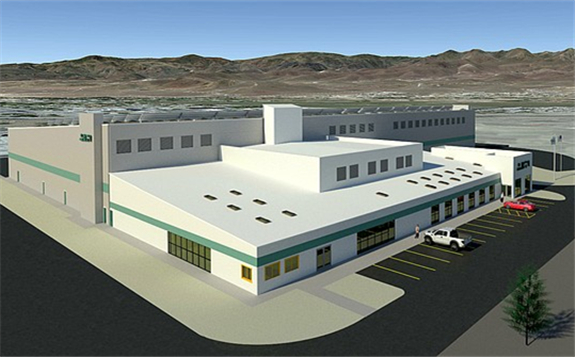 The primary driver? The surge in demand for electric vehicles. In fact, the IEA predicts an 800% increase in the number of EVs over the next 10 years.
Helping lead the charge locally has been Tesla's Gigafactory east of Reno-Sparks, where every day, millions of lithium-ion batteries roll off the line, bundled and bound for battery packs of new Teslas.
Yet, while more and more new Teslas and other electric vehicles hit the road, the batteries of many existing EVs that have been running for years are nearing the end of their useful lives.
As a result, there are mounting piles of spent lithium-ion batteries across the globe — and collecting, storing and recycling them has proven to be a logistical challenge. In fact, in the U.S. alone, only 5% of all spent cells are recycled, according to the U.S. Department of Energy.
A startup in Northern Nevada is aiming to help change that.
American Battery Technology Company, currently based in Incline Village, is amid plans to construct a 60,000-square-foot lithium-ion battery recycling facility in Fernley. The project was first announced last summer.
The company would start out recycling 20,000 metric tons of lithium-ion batteries per year, before scaling up to handling 100,000 metric tons annually.
The latter amount alone would match the number of lithium-ion batteries that were recycled in all of 2018 globally, according to London-based Circular Energy Storage.
"Our one pilot plant meaningfully increases that capacity to recycle," Menka Sethi, chief operating officer at ABTC, told the NNBW. "ABTC's mission is to increase the production of battery metals in the United States. These are metals that power our electric vehicles, our consumer electrons, and our cellphones."
Specifically, ABTC plans to create a "circular economy for battery metals" using its clean technology platform, Sethi said.
"In other words," she continued, "take a battery, dismantle it, pull out the metals, purify them, and put them right back into the industry to cathode manufacturers and people who make the batteries, so they can be used again for a cellphone or an EV."
To accomplish this, Sethi says the company has a three-pronged approach to supply battery metals: lithium-ion battery recycling, extraction technology and primary resources.
The company says its process is water-based, non-high-heat and closed loop. As such, the plant gives off low air emissions, recycles and reuses water and is partly powered by on-site renewable solar energy generation.
"It's been a known issue that if we're going to scale EVs, we need more of these critical battery metals," said Sethi, citing nickel, manganese, lithium and cobalt. "And we really are unique compared to our competitors in that we do have three different ways to source those critical battery metals. And it's a really exciting spot to be in."
SEEKING APPROVALS
The company is moving closer to bringing the pilot plant to fruition.
ABTC recently filed for its conditional use permit for its facility in Fernley, where the company has purchased a 12.5-acre plot of land for its project, located adjacent to American Ready Mix off Logan Lane.
Sethi said ABTC anticipates its conditional use permit will go to the city of Fernley planning commission in mid-May. If OK'd, it would then go before the city council for approval.
She added that the company is also in the process of submitting its grading permits to the city of Fernley. If permits are approved, ABTC expects to begin construction by the end of May and have its operations up and running by the end of this year, she said.
The projected timeline comes several months after the company held a ceremony in late August 2020 at the Fernley site, where ABTC CEO Doug Cole and Nevada Congressman Mark Amodei "broke ground" on the yet-to-be-approved plant. At the time, Project Manager Chuck Leber said the construction schedule was at the mercy of the COVID-19 pandemic.
Presuming permits are granted, the pilot plant will be built in two building phases, starting with an initial 30,000 square feet before adding another 30,000 square feet in the second phase.
The project will include an additional 40,000 square feet for laboratories for quality control and experimentation, office space and warehouse space for finished goods.
The company anticipates funding the project with a conventional 36-month construction financing of roughly $5.5 million, which includes: purchase cost of the building site, the initial 30,000-square-foot industrial building, and initial battery recycling equipment and utility infrastructure, according to previous reports.
Once the plant is operational, the company anticipates the package will be refinanced with long-term project financing via a large-scale lending institution, which may include Small Business Administration loan guarantees, according to previous reports.
Sethi said the company has received "validation points" throughout the planning process for their pilot plant in Fernley.
This, she said, includes being selected to the 2019 Greentown Labs/BASF Circularity Challenge accelerator program for battery recycling, as well being selected for a $4.5 million grant by the U.S. Department of Energy this past January.
"There's been ongoing testing and proving of this technology at bench scale," Sethi said. "The pilot plant will be the first time that the technologies have really been brought to market at any type of commercial capacity."
ECONOMIC IMPACT
The company estimates the direct and indirect local and state economic impact will be roughly $348 million over the coming decade, Sethi said.
Sethi said the Fernley project would create about 50 new jobs within its first three years, with positions ranging from equipment operators to R&D chemists to company executives. The average wage will be around $45 an hour, she noted.
"One of the reasons we want to scale the recycling as fast as possible is we think this is an incredible and exciting way to grow manufacturing jobs and bring them back to the United States," Sethi said. "And bring them back in a way that we're addressing climate change and perpetuating the transition to a clean energy economy."
"The onus really is on us to open the pilot plant as fast as possible to showcase this to the world. We certainly think there is a game-changing capacity."