Ørsted and PSEG have completed PSEG's acquisition of a 25% equity interest in the Ocean Wind offshore wind farm. Announced on 4th December 2019, PSEG's investment in Ocean Wind received approval from the New Jersey Board of Public Utilities on 31st March.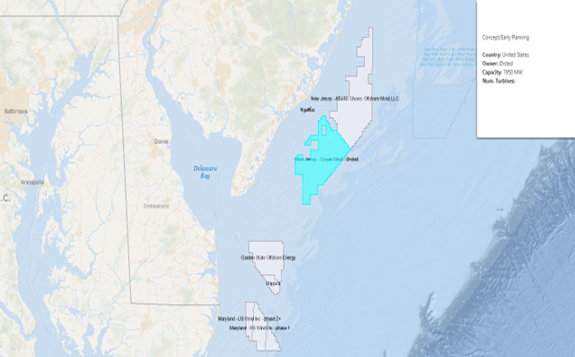 Ocean Wind, is an 1,100 MW offshore wind farm located 15 miles off the coast of southern New Jersey. New Jersey Board of Public Utilities awarded Ocean Wind the state's first Offshore Wind Renewable Energy Certificates (OREC) award for 1,100 MW in June 2019. It includes the Installation of up to 98 turbines, up to three offshore substations and up to two export cables & onshore substations. Monopile foundations are being considered for the turbines whilst monopile or piled jacket foundations are being examined for offshore substations. Atlantic City was identified as the location for an onshore operations and maintenance (O&M) facility.
The recent issuance of a Notice of Intent for Ocean Wind from the federal Bureau of Ocean Energy Management is further progress along the timeline of New Jersey's groundbreaking investment in offshore wind power.
"From creating jobs and strengthening the economy to investing in infrastructure and bringing gigawatts of renewable energy to our coast, offshore wind is critical to New Jersey's future," PSEG Chairman, President and CEO Ralph Izzo said. "PSEG is pleased to close on its investment in Ocean Wind and looks forward to working with Ørsted to bring clean energy and new industry to the state."
"We're excited to officially welcome PSEG as a partner on Ocean Wind," said Martin Neubert, Chief Commercial Officer and Deputy Group CEO of Ørsted. "Our two organizations are well-suited to deliver clean reliable energy to New Jersey and help the State continue its path on becoming a leader in the American offshore wind industry."
"Ocean Wind is a leader in helping New Jersey and the nation achieve their clean energy goals," continued Izzo. "With our robust climate goals and strategies, PSEG is proud of our role in supporting New Jersey's clean energy economy as we work to address the challenges of climate change."
Combined with the New Jersey Wind Port and Port of Paulsboro, the state's key facilities planned to support the development, manufacturing, supply chain and assembly of offshore wind components, Ocean Wind is expected to help New Jersey achieve steps in generating clean energy for millions of the state's residential and business customers, as well as strengthening the domestic supply chain, creating thousands of jobs and supporting the deployment of offshore wind at scale.