Over half of the global population now lives in cities, with urbanisation on the rise in every continent and figures set to climb close to 70% by 2050. The demand for buildings and cities to become more liveable, workable and sustainable due to the global push towards net-zero targets, combined with population and urbanisation growth, forecasts that the global smart cities market will be valued at $3.6 trillion by 2025.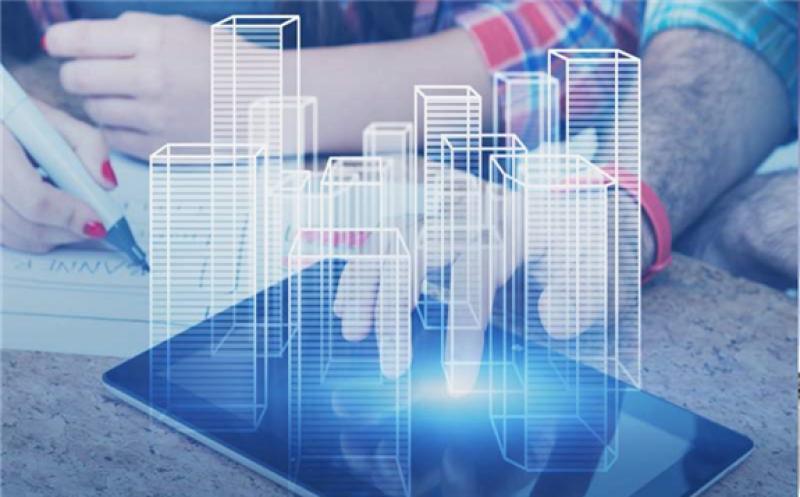 Governments across the world in progressive locations from Singapore to Helsinki and Zurich, are also now developing ambitious smart city initiatives to hit their own mid-century targets, as called for by The Paris Agreement. Designated city zones known as Smart Quarters are being developed, and entire smart cities that are truly sustainable are being envisioned, with intelligent buildings, cleaner transportation and infrastructures that serve essential human needs such as security, comfort and connectivity.
The rapid evolution of next-generation technologies such as artificial intelligence (AI), personalised healthcare and sustainable energy generation are also key drivers of the smart cities' future. Furthermore, with cities and their buildings currently accounting for 65% of global energy demand, it is evident that the buildings we construct today are crucial for the evolution of smart cities and our push towards net-zero targets.
Supporting buildings of the future
Intelligent buildings are a vital element to a future where cities become safe, smart and sustainable and building owners can harness and control their own energy usage.
Smart building technology has already helped many thousands of buildings and homes consume energy more efficiently. ABB has supported the construction of the New Development Bank (NDB) Headquarters in Shanghai by installing an intelligent and integrated building controls system, to manage indoor lighting, electric curtains and windows that involve more than 8,000 control circuits. Following the installation, the NBD Headquarters was able to make energy savings of more than 15% compared to conventional systems.
2021 marks a turning point in our collective ability to bring down emissions in our cities, save energy, and speed up the transition to renewable energy with smart buildings and power grids though the convergence of AI and IoT.
As emerging technologies continue to develop, more opportunities arise for buildings to leverage new technological processes and data sources. The concept of using technology to improve our cities and buildings is not a new one, but what is different is that IoT is now enabling us to connect an increasing number of devices which were not connected before. Connectivity really is the key to unleashing the true potential of intelligent buildings, unlocking opportunities for new information from infinite sources to be analyzed and combined, offering a new level of intelligence.
However, it is not just about using new technologies; smart thinking and the optimisation of existing buildings is a key factor when it comes to accelerating the sustainable development of smart cities globally. ABB is working closely with cities and utilities to obtain greater efficiencies from existing infrastructure and build unified, attractive city services as part of a move towards smarter cities. With IoT technologies, older buildings can take full advantage of the data they generate and adjust to how they operate.
One city doing just that is Zaragoza, the capital of Aragon, Spain. The city sought to reduce its total energy consumption by 20% with a focus on four major Zaragoza smart city buildings: the historical Seminario of Zaragoza, which houses City Hall offices, the main City Hall, the main police station and the Technology & Art Center. Advanced energy monitoring was provided through a cloud-based energy management platform to bring the four buildings into compliance with the ISO 50001 standard. As a consequence, Zaragoza was able to fulfill the first steps on its way to compliance, and the collaboration resulted in savings of up to 30% in operational costs.
Another great example of smart city technology in action can be found in Hanoi, Vietnam. As part of the project, Vietnamese multinational telecommunication service, Viettel Group, is targetting to achieve their green objectives. Viettel wanted their headquarters in Hanoi to be a symbol of innovation and to set the standard for the rest of their buildings around the world. In order to meet the high demand for safe, smart and connected workplaces, a range of smart building technology has been supplied. Key to the project was the i-bus KNX system, with all devices of the building ranging from lighting and shutter control to heating, ventilation, security and energy management communicating with one and another via a single bus interface.
Turning existing infrastructure into smart buildings for smart cities
So, what are the challenges when it comes to upgrading existing building infrastructure, and how can smart, IoT-based technology overcome them?
Financing: Upgrading a building may seem like a costly expense, however the advancements in IoT mean this is no longer the case. Modern sensors can be connected wirelessly, without the need for expensive installation costs. The reduced energy and maintenance costs allow for a quick return on investment, with figures showing that intelligent buildings use 20-40% less energy and result in 8 – 9% lower operating expenses than those with older systems.
Maintenance: Predictive fault-finding can save maintenance time and labor, as well as minimising downtime for expensive equipment or services. Some estimates suggest that smart-enabled predictive maintenance is three to nine times cheaper than a traditional reactive approach. Tenant and occupant satisfaction are often also higher as systems that experience failure can be identified, repaired and re-booted quickly.
Design: Older buildings may not have been designed with smart technology in mind, but the latest technology is usually compact and lightweight, from IP entry systems to light switches through to energy management systems, making them easy to fit even the hardest to reach places. Wireless sensors are discreet and have an adhesive backing which can simply be stuck to walls, desks or ceilings with no screwing or external fixings required. Thick walls, which can sometimes obscure wi-fi signals, can be overcome with the use of 'repeaters' or signal-boosters, which help to extend the range of the products.
A holistic ecosystem
Developing a holistic ecosystem where everything is connected and interoperable should be the key aim when it comes to smart city buildings now and in the future, from safety and security to comfort and control. Linking all elements of the smart building together into one easy-to-use system, that ultimately drives energy efficiency and reduces operating costs, from door entry to emergency lighting to harnessing the power of the sun through solar and integrating this with E-mobility solutions, such as EV charging.
A combination of solar power, smart energy management and a highly efficient cogeneration plant have proven to deliver enough energy to power a whole factory and save huge amounts of CO2 at ABB's Busch-Jaeger subsidiary in Lüdenscheid. The carbon neutral factory generated 1,100 MWh in its first year, which was enough climate-neutral power to cover 100% of the factory's power requirements on sunny days. It has also reduced the site's CO2e emissions by some 680 tons per year.
The future is now
From home and office to transport and utilities, 2021 is the year that smart cities will begin to take shape. Advances in IoT and AI will bring together smart buildings, smart power grids, and EV charging to form a new smart society ecosystem that is increasingly interconnected and efficient, helping us to live comfortably and securely, while protecting our planet for future generations.
What is clear is that our focus should not be limited to smart cities. It is important that we also take into consideration the crucial role that smart industry, regional infrastructure and settlements play in building the societies of today and of the future. Keeping us safe and secure is a major element on our journey to creating smart cities that are in tune with the needs of current and future generations.
This article is reproduced at www.smart-energy.com