Power giant State Grid is set to announce it has completed two intelligent energy towns in North China's Tianjin, thus becoming the first such Chinese towns in which electricity consumers save cost by 10 percent on average, compared with ordinary industrial and residential towns.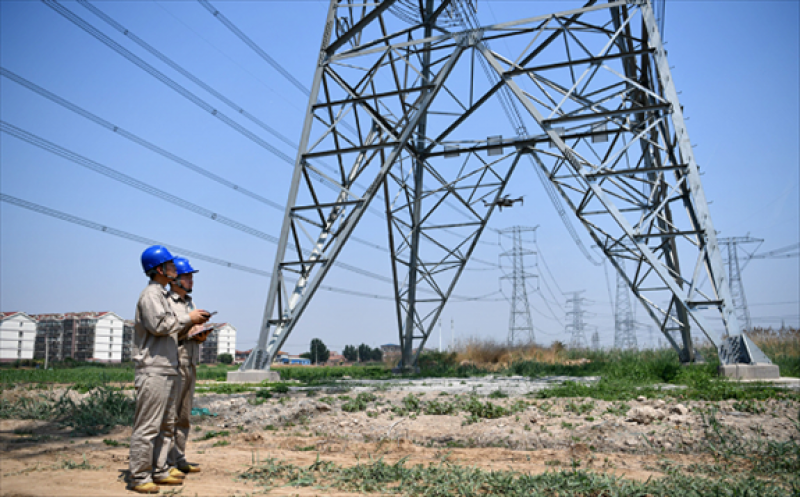 The company also unveiled an ambitious target to build more such towns in the city's coastal Binhai New Area and throughout the country, due to its prominent carbon dioxide reduction capacity, which is in line with the country's pledge to eventually peak carbon emissions and achieve carbon neutrality.
The company said it has invested heavily in the initiative and taken nearly two years to construct the towns located in the Huifengxi residential area of the Sino-Singapore Tianjin Eco-City and Dazhangzhuang township, a model industrial zone in Beichen district, with a combined area of 14.5 square kilometers and a total population of 72,000.
It said it has upgraded power facilities, such as energy and heat storage stations, power networks as well as some projects operating in industrial and residential buildings and even some "zero energy consumption" buildings.
"To date, the two towns have seen clean energy cover 90 percent of the total area," said Wang Jianfeng, director of the Internet Department of State Grid Tianjin Electric Power Co.
"This clean energy utilization rate could benchmark current high-end intelligent towns in Denmark and Finland. In particular, the electricity power there has accounted for 45 percent of the total end power, 18 percentage points higher than the country's average," he said.
In addition, the two new towns in Tianjin have slashed carbon dioxide by 20,600 metric tons annually since 2018, he said.
China is aiming to reach its goal of peaking carbon emissions by 2030 and achieving carbon neutrality by 2060, which was reiterated by Premier Li Keqiang at the recently concluded two sessions.
Yu Yixin, an academician at the Chinese Academy of Engineering and a professor at Tianjin University, said: "Intelligent power is crucial for the country to achieve its dual goals of peaking carbon emissions and achieving carbon neutrality. The country's unbalanced development between power supply and demand as well as the efficiency of decarbonization, power transfer and utilization in the sector are major challenges to be tackled. They all require more optimized intelligent power networks."
Residents in the two towns said they are benefiting from the state-of-the-art facilities.
Yuan Yibo, director of the equipment department at Faway Benteler Automotive Components Tianjin Co Ltd, said, "Our company's revenue has increased by 1 million yuan ($150,000) annually due to the leading intelligent State Grid system on our production line."
State Grid's facility has helped the auto parts firm avoid voltage fluctuations at the millisecond level, "which can reduce costs in precision auto parts processing", Yuan said.
Wang Feng, a resident of Huifengxi, said, "I'm also keenly interested in the fancy facilities including the photovoltaic chairs in the park which can charge my mobile phone, the wireless charging services for electric vehicles as well as the facility to help with controlling room temperatures."