AEM Technology, part of the Atomenergomash engineering subsidiary of Russia's Rosatom, has started manufacturing the reactor pressure vessel for unit 3 of the Akkuyu nuclear power plant. Yesterday's announcement follows a ceremony held on 10 March to mark the pouring of first concrete for the unit at the Akkuyu construction site, which is in the Mersin province of Turkey.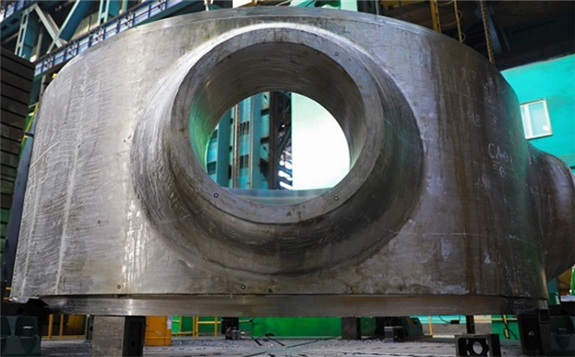 "Equipment for Turkey's first Akkuyu nuclear power plant is one of the top priorities in our portfolio of orders," Igor Kotov, managing director of AEM Technology, said in a Rosatom statement. "All the major stages of equipment manufacturing are being closely monitored by the Nuclear Regulatory Agency of the Republic of Turkey, which naturally imposes a special responsibility on us. But we already have a very rich experience of effective cooperation with foreign partners and are always open to dialogue on any of the most complex technological and organisational issues," Kotov added.
The vessel of the VVER-1200 reactor exceeds 330 tonnes, is 12 metres high and has a diameter of 4.5m.
Atomenergomash is a complete supplier of reactor island and machine room equipment for all Russian-designed nuclear power plants under construction. It is also a manufacturer of equipment for LNG projects, energy waste processing plants, shipbuilding and other industries. Its equipment is in use at about 15% of the world's nuclear power plants and 40% of the thermal power plants in Russia and the CIS.