The process of loading 241 fuel assemblies into the core of unit 2 at the Barakah nuclear power plant in the UAE has begun, operator Nawah Energy Company has announced. The move follows the issuance last week by the Federal Authority for Nuclear Regulation of the operating licence for the second of four Korean-designed APR1400 units at the site.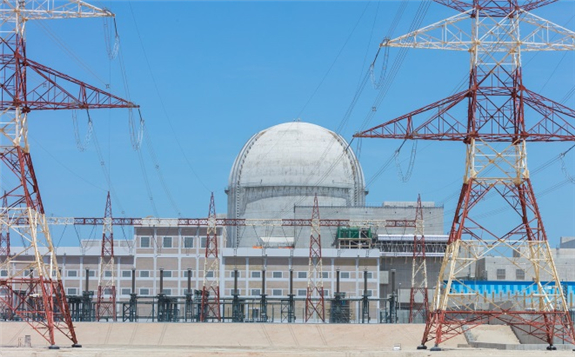 Nawah is the plant operating subsidiary of the Emirates Nuclear Energy Corporation (ENEC) and is partially owned by Korea Electric Power Corporation (Kepco).
"The diverse team of experts at Barakah is following strict safety guidelines and international best practices in loading fuel into the reactor of unit 2," Nawah said. "The same process was successfully completed at unit 1 in early 2020, marking a year of safe operations and clean electricity generation at the Barakah plant."
Once the fuel assemblies are loaded, Nawah will run a series of tests, prior to commencing the start-up sequence process known as power ascension testing, where operators will gradually raise the power generation levels. The unit will then be synchronised to the grid and the first megawatts of electricity will be dispatched. Following the successful completion of these tests, unit 2 will enter commercial operation.
ENEC applied for the operating licences for Barakah units 1 and 2 on behalf of Nawah in 2015. The decision to approve unit 2's licence followed the regulator's systematic review of the 14,000-page licence application, more than 220 inspections and requests for some 59 additional items of information to ensure the plant's complete compliance with all regulatory requirements. The licence has an estimated duration of 60 years.
Barakah unit 1, which received an operating licence in February 2020, has been operating at full power since December 2020. This unit is now in the final stage of the testing phase.
In a USD20 billion deal announced in December 2009, ENEC selected a consortium led by Kepco to build four APR-1400 reactors at Barakah, which is in the Al Dhafra region of Abu Dhabi. Construction began on the first unit in July 2012, unit 2 in May 2013, unit 3 in September 2014 and unit 4 in September 2015. Unit 3 is now 94% complete, unit 4 is 87% complete and Barakah as a whole is more than 95% complete.
Once all four units are operating, the plant will meet up to 25% of the UAE's electricity needs and help to avoid around 20 million tonnes of CO2 emissions every year that would otherwise have been produced from fossil fuels.