India is "well on track" to achieve its climate change targets under the Paris Agreement before the 2030 deadline, Prime Minister Narendra Modi said.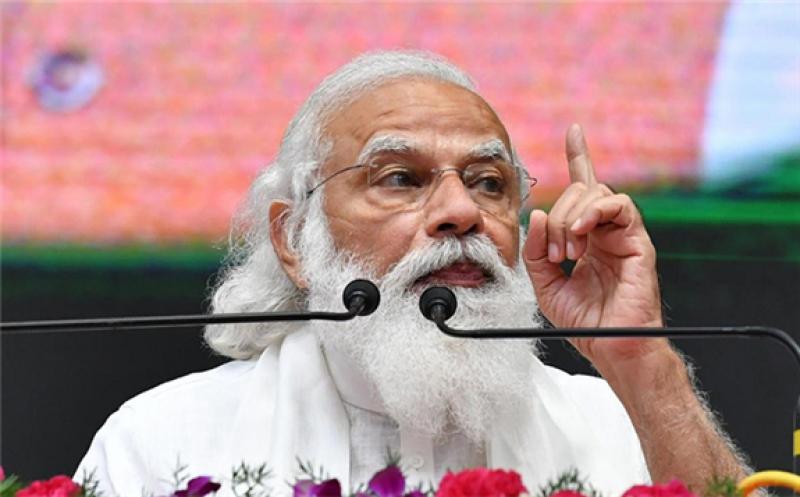 Mr Modi made the comments in an online address to CeraWeek, a conference organised by IHS Markit, as he received the award for global energy and environment leadership.
"For large-scale behavioural change, we need to offer solutions that are innovative, affordable and powered by public participation," said Mr Modi on Friday.
India pledged to reduce its emissions intensity to between 33 per cent and 35 per cent, compared with 2005 levels, by 2030 and generate 40 per cent of its power from non-fossil fuel sources.
Energy demand in India is expected to grow more than that for any other country over the next two decades, driven by an expanding economy and urbanisation, the International Energy Agency said last month.
The agency projected that India would overtake the EU and become the third-biggest energy consumer by 2030.
Mr Modi told the conference that his country had already made great strides in its push to meet its energy needs while tackling the problem of climate change. Coal is currently the main fuel used to generate power in India.
"The share of non-fossil sources in India's installed capacity of electricity has grown to 38 per cent now," said Mr Modi.
India is working to increase the share of natural gas in its energy mix to 15 per cent by 2030, compared with 6 per cent today.
"We launched a national hydrogen mission last month for the use of hydrogen as fuel," said Mr Modi.
He said the country had unveiled an initiative to promote an equitable model of solar power generation.
"But there is something beyond the world of policies, laws, rules and orders," he said. "The most powerful way to fight climate change is behavioural change."
Mr Modi said LED light bulbs were one example of a solution that has helped the public to reduce emissions.
About 37 million LED bulbs are being used in India, which cut emissions by more than 38 million tonnes while also saving costs, said Mr Modi.
He also said there was "growing acceptance" of ethanol, which can be used to reduce transport pollution.
"We have decided to advance the target of 20 per cent blending of ethanol in petrol by 2025, from the earlier [target of] 2030."
Managing India's dependence on oil is also critical as the world's third-largest importer and consumer of the fossil fuel tries to control import costs.
As India's appetite for energy grows, the country's import bill for fossil fuels is expected to triple over the next two decades, with oil accounting for the bulk of the costs, according to the IEA. The country's dependence on imported oil is projected to rise from the current 75 per cent to more than 90 per cent by 2040.
On Friday, India's oil minister Dharmendra Pradhan told Reuters that the Opec+ decision to continue with an output cut had the "potential to undermine a consumption-led [economic] recovery and, more so, hurt consumers, especially in our price-sensitive market".
Despite India having large reserves of coal, it is heavily dependent on imports. It aims to reduce its dependence on coal imports in the coming years as it scales up its own production of the fuel, PM Prasad, chairman and managing director of Central Coalfields Limited, a subsidiary of Coal India, said at the conference on Friday.
"One thing that comes through very strongly in our analysis is just the sense of scale. Whatever aspect of energy you are interested in, India is going to be such an important player," said Tim Gould, the IEA's division chief for energy supply and investment outlooks.
He was speaking during a panel session on India's energy future at the conference.
This article is reproduced at www.thenationalnews.com