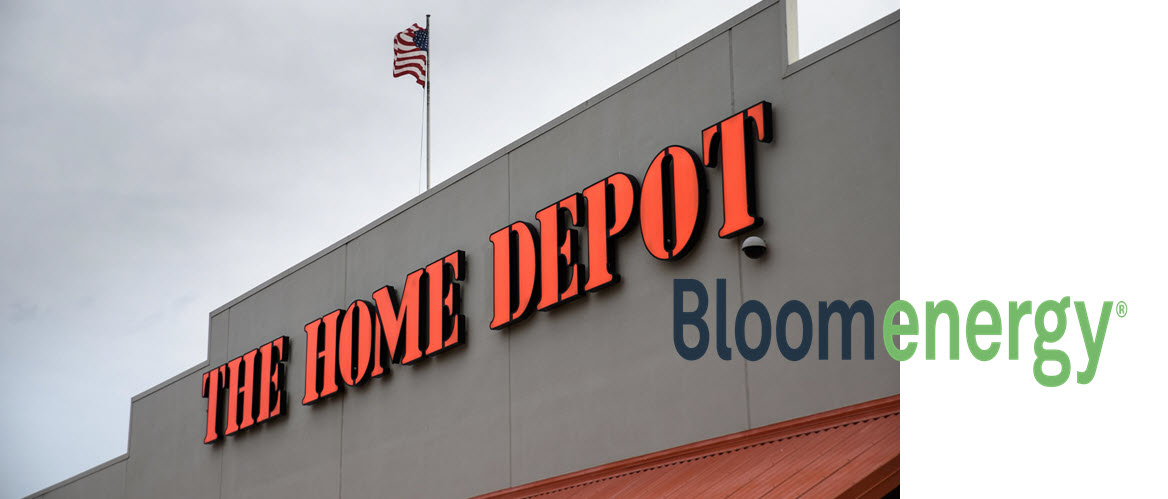 A heat wave and storms led to
power outages
that plunged hundreds of thousands of New York and New Jersey electricity customers into darkness last weekend. Airports in New York and New Jersey even grounded planes during the extreme weather.
Through it all, Home Depot stores in the New York area remained open thanks to clean, always-on power provided by Bloom Energy Servers.
Home Depot stores in Brooklyn, Halfmoon, Saratoga Springs and Amsterdam, New York experienced utility power outages of up to six hours. However, as each of these stores receives almost all of their power from Bloom fuel cells, and each of these power systems is capable of operating independently of the utility grid as a 'microgrid', each store was able to serve customers throughout the outages.
The borough of Brooklyn was hit particularly hard during the outage with the utility cutting power to 33,000 customers as usage spiked during the weekend heat wave. The power remained out for some customers until Monday afternoon.
The Brooklyn Home Depot store had its power cut three times, first for two short duration outages and then for roughly six hours. Bloom Energy Servers continued to power all business critical systems such as lighting, cooling, computers and cash registers as well as emergency systems such as exit signs, sprinkler systems and fire alarms.
The Home Depot stores in Halfmoon, Saratoga and Amsterdam have even more sophisticated microgrids which provided all of the critical power needs of each store during their outages, eliminating the need for back-up generators. The Saratoga and Amsterdam stores, for example, incorporate energy storage technology from PowerSecure, a subsidiary of Southern Company.
The fuel cell deployments in New York and elsewhere are part of Home Depot's sustainability initiatives, and support the retailer's goal to ensure that stores remain available to the communities they serve in the event of a natural disaster or grid power failure. The New York fuel cell deployments were enabled with the support of the New York Energy Research and Development Authority.
At the end of 2018, Home Depot had fuel cells operating outside 202 stores. Not only do these fuel cells, provide always-on reliable power, they also cut greenhouse gas emissions significantly – in some cases by 50% – compared to using traditional power sources.
Home Depot has long been a sustainability leader and its investments in fuel cells are part of a comprehensive sustainability effort across its 2,200 stores in the US, Canada and Mexico.
For example, Home Depot aims to derive 135MW of its energy needs from clean, alternative sources by 2020 including wind, solar and fuel cells. The company has additionally made investments in energy-efficient LED lighting and heating, air-conditioning and ventilation systems, reducing electricity consumption in U.S. stores by 26% compared to 2010 levels.
Last year, Bloom Energy microgrids helped customers continue to operate through more than 500 utility power outages.