| | |
| --- | --- |
| Time | 2019-11-10 - 2019-11-13 |
| Organizer | Jamey Wu |
| Place | Rio de Janeiro |
| Industry | |
| Tel | +86 181 1629 0813 |
| Email | jameyw@cdmc.org.cn |
| Website | WWW.CDMC.ORG.CN/ |
  Due to the extensive development of offshore exploration, Brazil is expected to dominate the global FPSO market growth! In the next 5-10 years, Brazil will remain the focus of the global FPSO industry! According to data from GlobalData, a well-known global market research company, 20 planned and announced floating production, storage and unloading vessels (FPSO) are expected to be deployed off Brazil's coast between 2019 and 2025, the highest in all countries in the world. Of the 20 FPSOs to be deployed in Brazil before 2025, 11 of them have clear development plans and 9 are previously announced FPSOs, which are conducting conceptual studies and are expected to be approved for development. PETROBRAS will operate 13 of the 20 FPSOs.
  In June 2019, Petrobras has approached four Chinese shipyards, COSCO Shipping Heavy Industry, Shanghai Waigaoqiao Shipbuilding, CIMC Laifushi and Merchants Heavy Industry. It will build, own and transfer BOT (Build, Own, Transfer) or BOOT (Build, Own, Operate, Transfer) in the Chinese market. The way of bidding for FPSO projects in Brazilian waters. The BOT or BOOT model refers to the construction and operation of the FPSO funded by the contractor. After a period of operation, it usually lasts for three years, and then transfers the FPSO assets to the oil company. OB will also focus on the impact of the latest model on China's marine industry and shipping enterprises!
  Enter South America with the world's highest market share of FPSO, explore Brazil's unlimited energy opportunities, focus on the world's largest FPSO market! South America has the highest market share of floating production in the world. Brazil leads the global growth of FPSO industry and invests in Brazil: the kingdom of FPSO!
  Offshore Oil and Gas Brazil 2019 (OB2019) is With the Aim to:
  1.Build a Great Connections between Deepwater, FPSO and Modular Construction.
  2.Push Forward for the Industry Exchange in Deepwater Floating Production Industry.
  3.Consistently Explore More Cost-effective and Higher Performance Solutions Catering to the Local Demands of Brazilian Offshore Engineering Industry.
  4.Exploration of FPSO Projects In The Pipeline Up Until 2030.
  5.Bring Operators, Contractors, EPC, Modular Contractors, Financial Institutions and
  Consultancies Under One Roof - More than 380+ Decision Makers.
  6.Be the Aircraft to Bring more Financial Institutions to Brazil!
  7.Play Positive Contribution for Brazilian Economic Takeoff!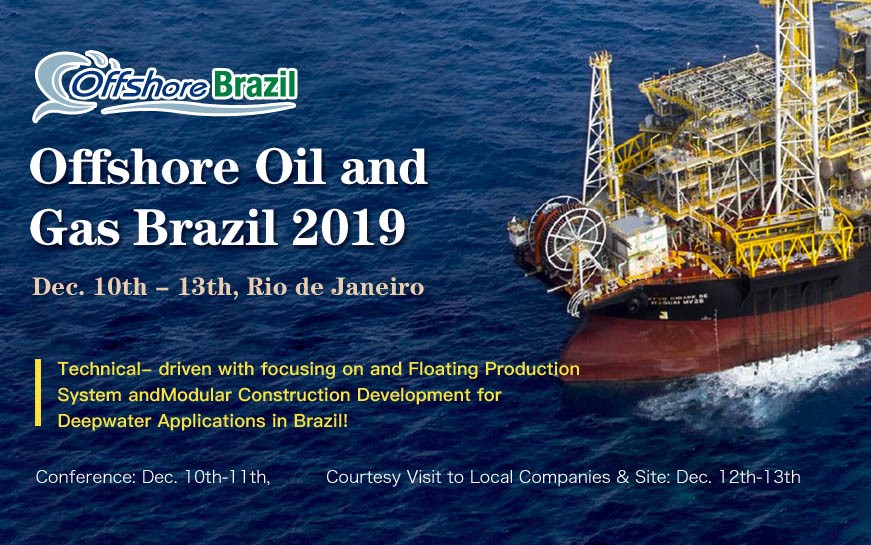 8 Reason for you to Explore the Great Opportunities in Brazil Offshore Energy:
  1.Brazil is the Deepwater & FPSO Kingdom: The Huge Market and Dominant Growth Speaks!
  2.One Day and A Half Conference to Keep Abreast of Latest Oil and Gas Development & PSC.
  3.Learning the Regulatory, policies and Local Content in Brazil: Important!
  4.Technical Focus + Commercial Perspective: Digging the Money Opportunities in Pre-salt Oil fields.
  5.Tailored - made Companies and Site Visit for Intensive Networking.
  6.Local Business Development with Top Priority.
  7.Perfect Locations to Showcase Deepwater Application Solutions in Brazilian FPSO Industry!
  8.One-on-One & Speed & Valuable Networking to Build New & Useful Connections in Brazil.
  Summit Highlights:
  1.The C-level Summit with precise and Key Attendees in deepwater FPSO Industry.
  2.In search of Growth Engine of FPSO Kingdom - Brazil.
  3.Financing and Outbound E&P Investments Opportunities and Challenges.
  4.Deep Taylor-made Technical and Commercial Sessions focusing on Deepwater Production and advanced FPSO tech.
  5.FPSO Application for Deepwater Development: New Blocks and New Demands in Mero field and Sepia Oil field in the Pre-salt of Santos Basin + Campos Basin + Espírito Santo Basin.
  6.FPSO Charter and Deployment Strategies.
  7.O&M (Operation and Maintenance) in Pre-salt Oilfields.
  8.Up-to-Date Global Floating Tech and Deepwater Projects Showcase.
  9.Fit-for-Purpose Solutions for Modular Construction - Hull, Mooring & Topsides.
  10.One-stop Offshore Human Resource Solution.
  Conference Focus:
  1.Offshore E&P in Brazil and Latin America.
  2.Deepwater Applications: The Opportunities & Challenges.
  3.FPSO Kingdom- Brazil: The Way Beyond.
  4.What is the Latest Technical Challenges.
  5.Charter + Deployment.
  6.Sourcing & Procurement Strategies Financing Brazil!
  7.Modular Construction & Smart Offshore & Digitalization.
  8.World's Leading FPSO Project in Emerging Countries.
  Event Structure
  Courtesy Visit
  Precise Plan to visit the Regulatory Authority, Associations,NOC + IOC,FPSO Contractors and Sites to Local Market during Dec. 12th -13th in Rio de Janeiro.
  Join the Courtesy Visit,You will:
  Learn the latest entry requirements,policies, local contents and market outlook.
  Do new Business Development in Brazil Effectively and Efficiently.
  Information: For Planning Project and Conversion Projects.
  Networking: Meet the Decision makers and key experts in Deepwater FPSO industry.
  Raise your question about the market and project and get the answer.
  CONTACT US
  VIP Invitation Letter
  If you are leaders or senior experts from Governmental Bodies, Industrial Associations and FPSO Contractors and other leading players among the list who are interested in attending OB 2019, please feel free to contact us. The organizing committee will offer attractive packages for you to networking with world's
  leading deepwater brains.
  (Long Press and Reservation of VIP Seats!)