Korea's three major electric vehicle (EV) battery makers -- LG Chem, Samsung SDI and SK Innovation -- are expanding their presence in the global EV battery market. But Korean battery material producers are still lagging behind Chinese and Japanese companies.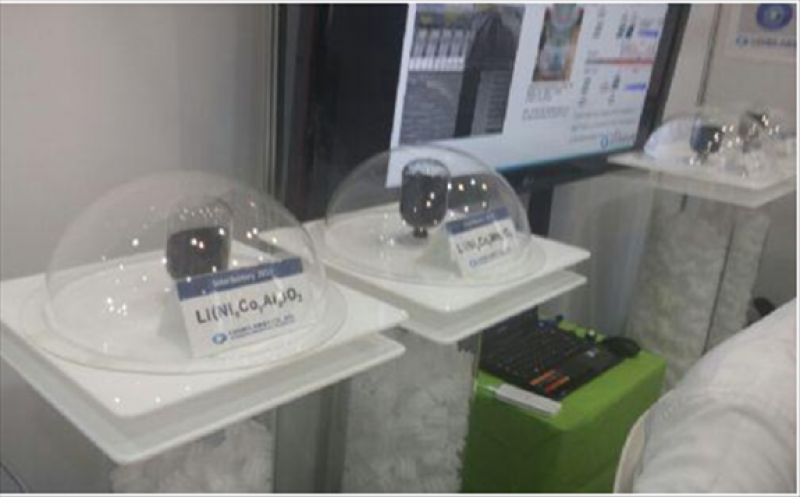 Korea's share in the world's four lithium-ion battery material market, excluding electrolytes, remained in single-digit in 2019, falling far short of the shares of China and Japan, according to a report from the Yano Economic Research Institute in Japan.
Among the four major materials, anode active material takes up the largest share of EV battery production costs. Korea accounted for 7.5 percent of the world anode active material market in 2019, down from 9.2 percent in 2017 and 8.5 percent in 2018. The proportion was dwarfed by those of China (69.2 percent) and Japan (16.2 percent). Anodes account for 22.2 percent of battery costs, which is much higher than 5.8 percent of cathodes, 11.2 percent of separators and 6.4 percent of electrolytes, SNE Research said.
Korea's shares in the markets for the three other materials have been rising. In the case of cathode active materials, Korea's share rose from 3.9 percent in 2017 to 6.0 percent in 2018 and 6.1 percent 2019. In Korea, POSCO Chemical is the only company that produces natural and man-made graphite cathode active material. Korea also increased its share in the separator market from 8.3 percent in 2017 to 8.5 percent in 2018 and 9.2 percent in 2019. Korea also saw its market share rise to 10.0 percent in the field of electrolytes in 2019.
However, China accounted for as much as three-quarters in the markets of battery main materials -- 69.2 percent in anode active materials, 76.6 percent in cathode active materials, 69.8 percent in electrolytes and 55.7 percent in separators. Japan also had twice as high as market shares of Korea. Japan enjoyed a 16.2 percent share in the anode active material market, a 17.3 percent share in cathode active materials and 20.2 percent in the electrolyte market and a 35.1 percent share in the separator market.
"As Korean battery manufacturers' shipments of electric vehicle batteries have increased, the status of Korean material manufacturers may rise, too," the Yano Economic Research Institute said. "How Korean material manufacturers will expand their presences in the European battery market will determine their market shares."
Meanwhile, the Yano Economic Research Institute foresaw that the markets of four major materials for lithium-ion batteries will shrink 4.5 percent from 2019 to US$20,038.1 million in 2020, but will return to growth after 2021 and grow to US$36,686 million in 2025.
This article is reproduced at www.businesskorea.co.kr