The two cables at TenneT's Hollandse Kust Zuid offshore grid connection have been pulled in at the HKZ Alpha platform jacket in the Dutch North Sea.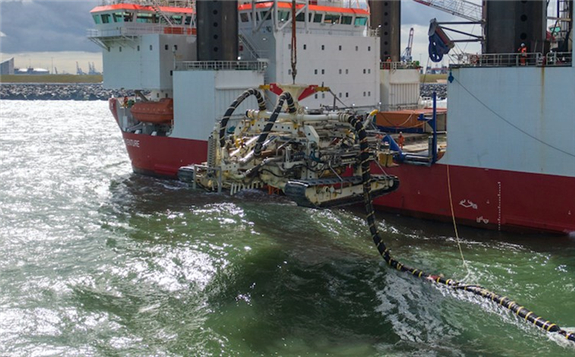 A consortium of Van Oord and Hellenic Cable is installing a total of four subsea 220 kV AC cables to connect two offshore platforms to the grid.
The consortium will install the two cables at the Beta platform next year, TenneT said.
The 1.4GW grid connection will be completed in 2022.
Installation at the Alpha platform started on 22 September by pulling the cable ashore at the Dutch Maasvlakte.
Van Oord's Deep Dig-It trencher (pictured) then crossed the Rotterdam Maasmond to bury the cables 5.5 metres deep for the first 10 kilometres.
The cables have now reached the jacket in HKZ area, TenneT added.
The two offshore platforms will connect with the Maasvlakte high-voltage substation and the Randstad 380kV South ring.
Once the HKZ connection is completed, TenneT's next project will be to connect Hollande Kust Noord.
It will use the same type of 700MW transformer platform five times for the grid connection.