To power the lift truck fleet within the retail giant Asda's extensive supply chain network, leading provider of zero emission hydrogen engines and fueling solutions enabling e-mobility, Plug Power Inc., is providing UK-based supermarket Asda with hydrogen fuel cell solutions.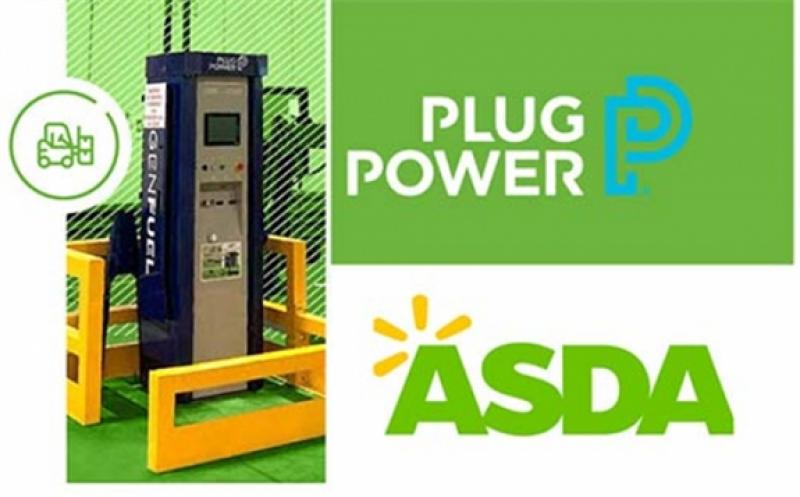 A purchase order agreement for Plug Power's full-service GenKey solution, beginning at the UK facility in Skelmersdale includes Asda's partnership with Plug Power, and the turnkey solution includes fuel cells, hydrogen fueling equipment, hydrogen and service. Representing the first deployment at scale of hydrogen fuel cell technology for material handling within the United Kingdom, this new customer continues Plug Power's growth in Europe. Asda's reliance on traditional lead acid batteries for power in their material handling fleet is reduced by this move and forms part of a broader initiative designed to make the company's operations more environmentally-friendly.
Andy Marsh, CEO of Plug Power, commented that each new opportunity to expand the adoption of hydrogen fuel cells is an important step to building the hydrogen economy, and added, "We're especially excited to be partnering with an organization like Asda, which has such a proud heritage and sterling reputation. Their focus on making their organization more environmentally-friendly makes Asda an ideal partner, and we're optimistic that this deployment is just the start of a long and fruitful relationship."
Currently ranked as the UK's third-largest supermarket retailer, Asda has a market share of over 15 percent, with annual revenues of more than £20 billion. Asda is a wholly-owned subsidiary of the multinational retailer Walmart Inc., which itself is a longtime Plug Power customer and a global leader in fuel cell adoption and commercialization in the supply chain and logistics market. Sole control over the entirety of its logistics network, which includes more than 30 distribution centers staffed by more than 12,000 employees across the UK is maintained by Asda, like its parent company. As part of Project Gigaton, Asda is committed to meeting its target to remove 1 billion tons of emissions globally, with 179 Asda suppliers having already signed up to this commitment, saving a significant 29 Million Metric Tons of emissions.
"Asda is dedicated to being the world's Most Trusted Retailer, and sustainability is a big part of that," said Darren Pettener, General Manager of the Asda Skelmersdale Distribution Center. "We've seen firsthand what a difference hydrogen fuel cell adoption has made for our parent company. There are good reasons why Walmart, which has been a leader in supply chain innovation for decades, has chosen to build the largest fleet of hydrogen fuel cell-powered electric vehicles in the world. We're eager to realize the proven environmental and productivity benefits of fuel cell adoption in our operations at Asda."
Asda's supply chain network gets multiple benefits by Plug Power's GenKey solution. By eliminating the downtime required for battery charging and changing, distribution centers are able to achieve substantial productivity gains and higher material velocity by fuel cell powered logistics equipment. Valuable floor space is freed by removing the need for multiple batteries per truck by the fuel cell solution, replacing bulky battery charging and changing stations with a compact hydrogen fuel dispenser. Customers are enabled to quickly capture all of these benefits, providing full integration and deployment of the Plug Power's fuel cell engines, hydrogen fuel solutions, and support by the full-service