Construction of the upper part of the Arcadis Ost 1 offshore substation has now begun at the former Lenin Shipyard in Gdansk, Poland, Elia Group said.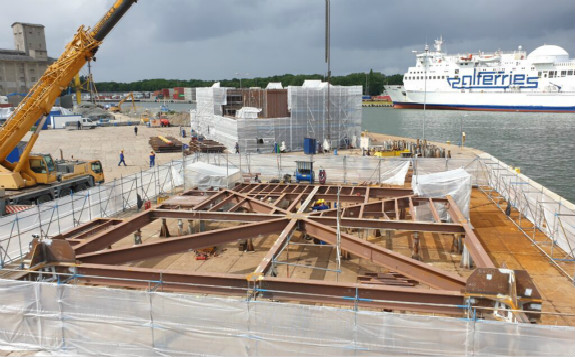 Elia's German subsidiary 50Hertz is working with the Belgian offshore wind developer, Parkwind, to more efficiently connect the new Baltic wind farm, Arcadis Ost 1, to the German high-voltage grid.

Parkwind and the German transmission system operator are jointly building the wind farm's offshore transformer platform.
The Arcadis Ost 1 substation being constructed at the former Lenin Shipyard. Source: Elia
The 247 MW Arcadis Ost 1 wind farm will be located off the German coast in the Baltic Sea, 19 kilometres northeast of the island of Rügen.

The offshore substation will consolidate the energy generated by the wind farm's 27 MHI Vestas turbines, transform it from 33 kV to 220 kV, and then transmit it onward to the mainland via a submarine cable to 50Hertz's high-voltage substation in Lubmin.

Once the upper part of the platform is completed and outfitted, it will be transported by ship and installed on piles driven directly into the seabed, Elia said.

According to the current schedule, the offshore substation should be installed in 2023. Denmark's Bladt Industries is in charge of the design, fabrication, and installation of the Arcadis Ost 1 substation.

Parkwind plans to commission the Arcadis Ost 1 wind farm in 2023.