The government has urged the Bangladesh government and the private sector to invest in Nepal's hydropower sector.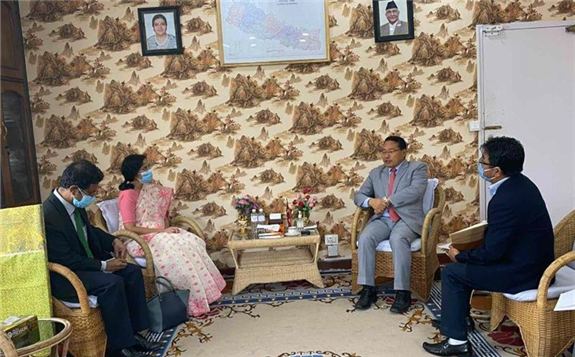 Minister for Energy, Water Resources and Irrigation Barshaman Pun urged the Bangladesh government and private sector investors to invest in the energy sector during a farewell meeting with Bangladeshi Ambassador to Nepal Mashfee Binte Shams at Singha Dubar on Thursday.
Minister Pun also urged the Ambassador to be confident in investment security as an investment-friendly environment has been created in Nepal's energy sector.
Recalling the agreement reached between Nepal and Bangladesh on cooperation in the energy sector, Minister Pun termed it as a milestone for energy trade between the two countries.
A bilateral agreement was signed between Nepal and Bangladesh at the Power and Energy Conference held in Dhaka on September 13, 2018 to purchase 9,000 MW of electricity from Nepal by 2040.
Earlier, a memorandum of understanding on energy co-operation was signed between Minister Pun and Bangladesh Energy Minister Nasrul Hamid.
Minister Pun lauded the important understanding reached on bilateral diplomacy and energy cooperation during the tenure of Ambassador Shams.
Ambassador Shams is returning to Bangladesh within a few days after completing her four-year tenure.