Hyundai Motor Company is currently showcasing its hydrogen and mobility solutions at the H2Mobility + Energy Show 2020 in Korea.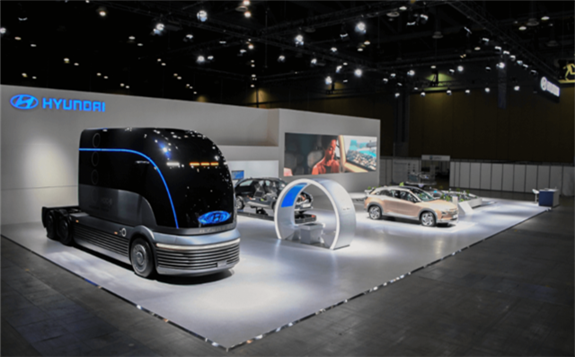 At the show, Hyundai's HDC-6 Neptune concept, a hydrogen-powered Class 8 heavy-duty truck; mobile fuel cell generator; and a scale model of its smart mobility ecosystem are all on display.
The show marks the Korea premiere of the HDC-6 Neptune, Hyundai's hydrogen-powered fuel cell electric concept, which debuted at the North American Commercial Vehicle Show last October.
Hyundai's HDC-6 Neptune Concept Class 8 heavy-duty truck is part of the South Korean automotive manufacturer's 2030 vision for widespread deployment of hydrogen-powered fuel cell technology.
One of the key design inspirations for the HDC-6 NEPTUNE Concept was New York's iconic streamliner railway trains of the 1930s, one of the greatest technological advances of the early 20th Century.
The HDC-6 NEPTUNE employs a solid structure with a smooth and rounded front design to create an entirely unique frame for the hydrogen-powered electric truck.
Hyundai is also presenting its mobile fuel cell generator at the event, hinting at the possibility of fuel cell systems expanding usage to various industries. Hyundai's mobile fuel cell generator utilises two fuel cell stacks also used in its hydrogen fuel cell NEXO which is also on display.
The Korean vehicle manufacturing is collaborating with a wide range of organisations domestically and globally across public and private sectors to establish and vitalise the global hydrogen economy by supplying fuel cell vehicles, building more hydrogen charging stations, and expanding the application of fuel cell systems into various industries.