Power consumption fell 6.5% in Q1, but growth has recovered recently.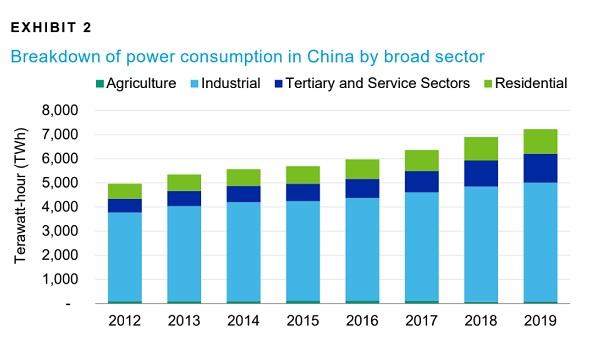 China's power demand growth is expected to remain flat in 2020 and improve to mid-single digit percentage in 2021, as the weaker GDP and exports resulting from a global recession weigh heavily on power consumption for the year, according to a report from Moody's Investors Service.
However, power demand could possibly contract if the global economic recovery is delayed or far weaker than expected because the spread of coronavirus is not effectively contained globally and restrictions on business activity do not ease.
Power consumption in China fell 6.5% YoY in Q1, but growth has recovered recently as economic activity gradually resumed after the lifting of nationwide lockdowns. National power consumption volume grew 4.6% in May, compared with the 10.1% drop in February.
China's installed capacity has quadrupled in the past 15 years, to 2,011GW at the end of 2019, supporting ongoing power demand growth.
Industrial activity accounted for more than 65% of national power demand, but the contribution from service sectors and residential users is rising. Moody's attributed this to the ongoing transition of China's economy to a consumption-led growth model, together with urbanisation progress.
Meanwhile, eastern China, with a more established economy, represented about half of the national power consumption. Contribution from western China has been gradually picking up from a historical low base, supported by relatively higher GDP growth in the past few years.
Traditionally, coal is the dominant source of power supply in China because of ample coal resources, fairly low generation costs and stable electricity supply, but its pace of expansion has slowed in the past few years due to the country's decarbonisation objectives.
Further, increasing renewable energy installed capacity, in particular wind and solar power, is consistent with China's plan to reduce its reliance on fossil fuels and addresses its commitments under the Paris Agreement, the report noted.
Utilisation hours for renewable energy have improved broadly since 2016, driven by favourable power dispatch policies and an expanded transmission network. These utilisation hours are expected to remain stable in the next two years under the power dispatch policies.
Meanwhile, thermal utilisation hours declined from around 5,000 hours in 2013 to 4,300 hours in 2019 because of large-scale expansion in renewable energy and a moderation in national power consumption growth.
"We expect thermal utilisation hours to further drop to 4,050–4,150 hours in 2020–2021, as a result of weakened power demand and priority dispatch of renewable energy," Moody's added.