Time
2020-02-12 - 2020-02-13
Organizer
Place
Serena Hotel, Islamabad, Pakistan
Industry
Energy&Power
Tel
Email
echo.xie@wispool.com
shuyi.zhang@wispool.com
dw@wispool.com
Website
http://www.pakistanenergy2020.com/
Pakistan Energy Reform Summit 2020
(Press Release)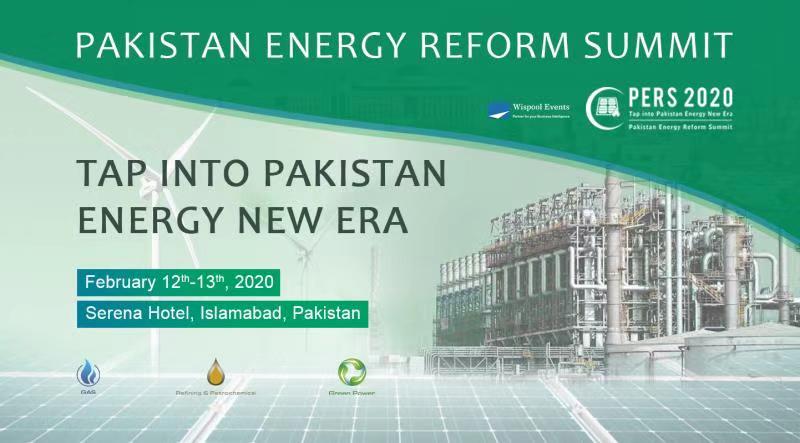 The Pakistan Energy Reform Summit 2020 (PERS2020) will be held by Wispool Events on February 12-13, 2020 in Serena Hotel, Islamabad, Pakistan. This is the first and only international energy summit in Pakistan.
PERS 2020 is under the official support of Pakistan Ministry of Energy with favorable policy environment, that aims to focus on the major social and energy reform activities initiated by the new Pakistani government, including energy restructuring, backward energy supplementation, and attracting commercial capital in overseas energy projects.
PERS 2020 will gather the most relevant senior officials from Pakistan government, and executives from international oil & gas giants, energy companies, world's top consulting firms, international celebrated investment banks and so on. Within 3-days program (including one day pre-conference golf tour), the Pakistan Energy Reform Summit will come with a plenary stream and Three major topics of conferences including Renewable Energy, Gas & LNG, Refining & Petrochemical, which will collect 100 + eminent speakers, 100+ sponsors and exhibitors, 1000 conference delegates (Close-door audiences mix with aboard and local company representatives), 5000+ industry exhibition visitors, 80+ project showcasing, and a lot more.
You will participate in the deepest conversation on Pakistan renewable energy field of hydropower, solar and wind; LNG trade and infrastructure on field of oil & gas, and refining & petrochemical fields. You can expect to grasp the future policy & planning, current opportunities & challenges, potential investment & market, reform & innovation, hot-spots & difficulties in Pakistan energy industry in order to facilitate the development of power industry, to accelerate the energy transformation, and to set up the most valuable platform for industry experience sharing, energy complementary, trade & investment, scientific & technological innovation in Pakistan, as well as in APAC for a global scope.
During the Plenary Session, the Minister of Ministry of Energy Pakistan will deliver an inaugural address and a keynote speech, following by the Special Assistant to the Prime Minister Pakistan, Chairman of Board of Investment Pakistan, Vice President of Saudi Aramco, Core Leader of the China-Pakistan Economic Corridor and other top-level experts…
We are very looking forward to welcome you at Pakistan Energy Reform Summit 2020 - to Tap into Pakistan Energy New Era.
For Speaker Enquiry, please contact: echo.xie@wispool.com
For Media Enquiry, please contact: shuyi.zhang@wispool.com
For delegate/ Exhibitor Enquiry, please contact: dw@wispool.com
PERS 2020 Website: http://www.pakistanenergy2020.com/
Linkedin Page:
https://www.linkedin.com/showcase/pakistan-energy-reform-summit-2020/