China has manufactured its first domestically-designed 100-tonne used fuel transportation cask. China National Nuclear Corporation (CNNC) said batch production of the Longzhou-CNSC cask - which can hold 21 used fuel assemblies - will further consolidate its used fuel transportation capabilities.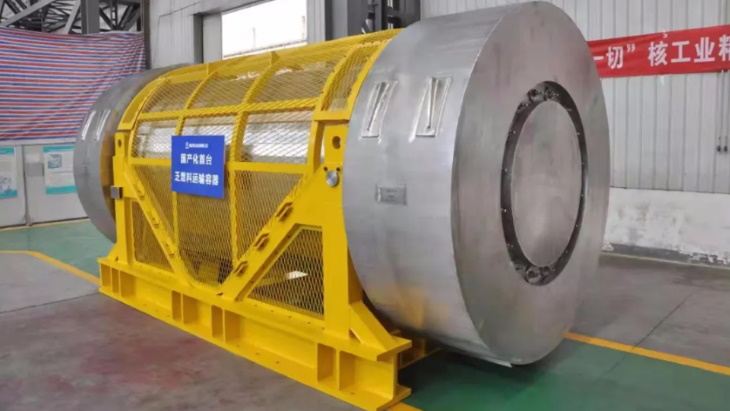 CNNC said the Longzhou-CNSC cask has undergone safety verification tests - such as drop tests and its ability to withstand fire - in accordance with the requirements of regulations and standards.

In 2017, China's National Nuclear Safety Administration approved Xi'an Nuclear Equipment Company's licence application to manufacture used fuel transportation casks. The company at that time was already producing the CNFC-3G cask for the transport of fresh fuel.

A prototype Longzhou-CNSC cask passed the acceptance test and was declared ready for batch production on 20 December 2017.

The first canister came off the production line on 30 June.

A centralised used fuel storage facility has been built at Lanzhou Nuclear Fuel Complex, 25 km northeast of Lanzhou in central Gansu province. The initial stage of that project has a storage capacity of 550 tonnes. However, most used fuel is currently stored at reactor sites, in ponds. The only dry storage operating is at Qinshan.

CNNC subsidiary CNNC Everclean is responsible for used fuel transport from nuclear power plant sites to the Lanzhou Nuclear Fuel Complex, and storage there. Some used fuel - over 100 fuel assemblies per year - is transported 3700 km by road from Daya Bay to Gansu province for storage. According to the State Administration for Science, Technology and National Defence Industry, this quantity needs to increase to 600 assemblies per year.

In June 2018 CNNC Everclean contracted with Holtec International to supply its HI-STAR 100MB casks by 2020. In 2016 it had bought four NAC-STC casks for high-burnup fuel, and in January 2018 Spain's ENSA also supplied a cask.

CNNC announced in December 2020 that it had manufactured its first railway trailer for the transport of used fuel. The D15B trailer, it said at that time, would be used for transporting 100-tonne casks. The following month, CNNC announced it had taken delivery of its first ship for the transport of used nuclear fuel. The independently produced Xin An Ji Xiang meets the INF-3 (Irradiated Nuclear Fuel class 3) standards set by the International Maritime Organisation. The ship features a double hull, with multiple watertight transverse bulkheads and reinforced structures for side impacts. It is powered by dual main engines, dual propellers, dual steering engines, and has dual independent cabins.